According to a report published by Taiwan's "China Times" on October 10, researchers at the University of Liverpool in the United States published a paper in the chemical journal Angewandte Chemie that they invented a very unique plasma synthesis technology that can use carbon dioxide (CO2). The direct conversion of methane (CH4) to liquid fuels reduces both greenhouse gas emissions and allows carbon capture to be used precisely.
According to the "Physics Science Network," the University of Liverpool researchers invented new technologies that can directly synthesize carbon dioxide and methane into more complex chemicals, such as acetic acid, methanol, ethanol, and formaldehyde, depending on the environmental conditions of synthesis (room temperature and Atmospheric pressure) and change.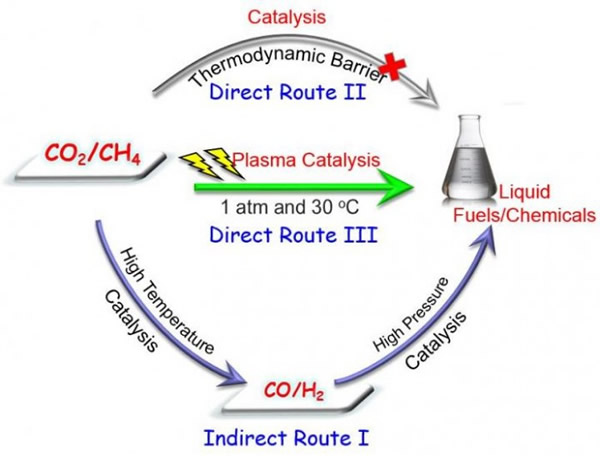 In the past, it has been very difficult to directly convert two stable inert molecules into liquid fuels or chemicals. Usually high temperatures or catalysts are used, and the energy required is often very large, so it is not worthwhile. However, the plasma synthesis technology of the University of Liverpool, although it also provides energy, but the input energy is relatively low, and is synthesized at room temperature and atmospheric pressure, making this technology can be widely applied.
The researchers said: "The non-hyperthermia synthesis method we developed provides a carbon dioxide solution and is also an important revolution for the future chemical industry."
Carbon dioxide is the largest amount of greenhouse gases, but what many people actually do not understand is that methane, which is commonly known as natural gas and methane, is also a powerful greenhouse gas, and even the greenhouse effect is 10-50 times stronger than carbon dioxide. Many scientists are concerned that large amounts of methane in the lake, permafrost, and seabed will be released into the atmosphere due to rising temperatures, and global warming will accelerate dramatically.
In order to cope with the global climate problems brought about by greenhouse gases, carbon capture and carbon sequestration are very important. That is, carbon dioxide in the air is collected and a well-stabilized stratum is buried deep. However, carbon sequestration is still a theoretical stage. It is also a problem whether the carbon dioxide entering the ground can be safely preserved. If the plasma synthesis technique works, then we can handle 2 kinds of greenhouse gases at once.
Polycarbonate Abrasion Resistant Sheet
Abrasion resistant coating
High transparency and UV-Protection
Light Weight and Impact Strength
Inhibiting Condensation and Thermal Insulation
Sound Insulation and Flame Resistance
Easy Installation and Environmental Friendly
Roof light for office building, department stores, hotels, villas, stadiums, schools, amusement centers, hospitals etc.
Robbery counters in banks, jewelry counters and police Anti-riot shields, Safety roof light for airports and plants.
Safety roof light for airports and plants.
Sign boards for advertisement, Sky-lighting cover.
Housing glasses, indoor partitions, sidewalk, sight window, sunshade, terraces and shower doors.

Abrasion Resistant Sheet
Abrasion Resistant Sheet,Abrasion Resistant Plastic Sheets,Abrasion Resistant Polycarbonate Sheet,Abrasion Resistant Polycarbonate Solid Sheet
Suzhou Demine Plastic Co.,Ltd , https://www.demineplastics.com